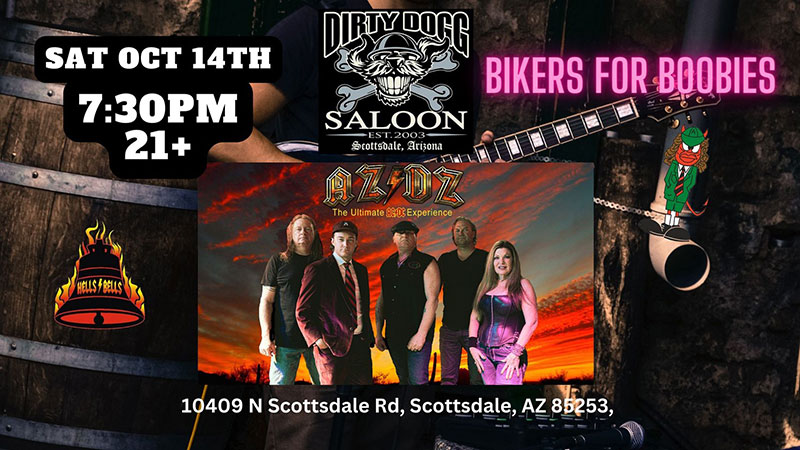 For the Bikers for Boobies Event
* Live Music at Dirty Dogg Saloon
Aaron Loveless 4:30 to 6:30pm
AZ
DZ 7:30 to 9:30pm
Pre-Registration for 2023 B4B Ride
$30.00 – $40.00
Thank you for your support!
This year's ride will take place Saturday October 14th
There are a few ways to participate this year!
You can pre-register and Do Bingo Route
OR You can do a ride/route the day of. There will be 2 routes : Route A & Route B *Day of *
The Bingo will also have the day of rider/route stops on them so you can choose to finish your Bingo Card with friends or on your own.
First 225 people "Pre-Registered" will receive
Meal at JP Cycles/Meal at DDS
Shirt – Bingo Card- Shirt – Swag Bag
Entrance into Event at Dirty Dogg Saloon
* Shirts are limited- 1 style White Gildan scoop neck T's
$30 Solo
$40 a couple
$20 Donation at gate to enter the end party if you do not do the ride.
Must be 21 or older to enter the end party.
Check in opens Saturday October 14th at JP Cycles – Scottsdale at 10am
Last Bike in to Dirty Dogg Saloon by 4pm
Raffle and Silent Auction winners will be drawn at Dirty Dogg Saloon
Bingo Cards and Ride Cards to be turned in at OUTSIDE Bikers for Boobies booth at Dirty Dogg Saloon Saturday October 14th!
Registration begins at 10am at JP Cycles – Scottsdale.
Must be 21 or older to attend the end party at Dirty Dogg Saloon.
Live Music ~ Artists to be announced.
Meal provided at JP Cycles – Scottsdale and Dirty Dogg Saloon.
Free admission to the Dirty Dogg after party (if you don't attend the ride, there is a $20 gate fee to get into the Dirty Dogg Saloon After Party).
Gates Open at 2pm at Dirty Dogg Saloon * Music to begin at 3pm
Raffles, Silent Auction, Bra Auction, Live Music,
Food Truck and more.
Bingo Cards/ Route Cards to be in by 4pm at Dirty Dogg.